Job advice for 25-year-old Ben, unemployed since 2008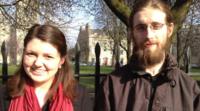 There are 16,000 more jobless 16 to 24-year-olds, according to the latest figures.
1.04 million under-25s are now out of work, while the unemployment number for all adults has hit a 17-year high of almost 2.7 million.
25 year old Ben Gillet told Newsbeat last month his life is "mind-numbing" and mainly taken up with computer games and cigarettes.
He's been out of work since 2008 when he lost his job at a car factory.
Samina White, 22 and from Barry in South Wales, is visiting Ben at his home in Royal Wootton Bassett, after hearing him last month on Newsbeat.
Samina and Ben's chat
Samina: You have to work for a job if you want it. It will turn into a 24/7 thing. When I was made redundant I looked everywhere. I found a job three months later.
Ben: The problem is, I then increase my food intake because of the increased calorie burn. I then have to spend extra amounts on transport.
Samina: That's what Jobseeker's Allowance is for. It's to pay for things like getting the bus and going into town to put the effort in. It's not to sit at home and to spend on games and to spend on smoking.
Ben: Smoking is the one regular luxury I allow myself. This is the first game I've bought in over two years. I see your point, but it is tedious.
Samina: So is going to a job you don't really want to be doing. Forget everything that's happened. Act like your job ended yesterday.
Ben: I did that but it wore me down...
Samina: Personally, I found volunteering helped. I'm still volunteering now even though I work.
Ben: I've done work placements for the Job Centre. I've been in a hotel, I've gone back to a shop, I've done admin work. I've got the experience.
Samina: I think you've made up your opinion and you don't want to shake it... If nothing changes, how can you expect something to happen?
Ben: I suppose I gave up expecting something to happen a while back. This is my life. This is what I know.
Samina: But you don't have to accept it...
Ben: I don't know. I tell myself everything's all right and I carry on. The next day I tell myself it's all right and I carry on. And the next day. And the next. And the next.
Career advisor visit
"Hopefully we can get through to him," says Samina. "But I think we're going to need a bit of help."
So the pair visit Rob Hicks, from the government's 'Next Step' adult careers service.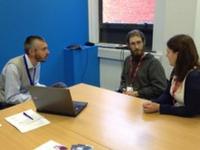 "I should go in with an open mind," admits Ben.
"To do otherwise would be squandering an opportunity that's presented to me."
Rob asks to look at his CV.
"You seem quite bright and intelligent," he says.
"I want to see what employers are seeing because I don't think they're getting that message."
One big tip, says Rob, is for Ben to adjust and tailor his CV for each job he applies for.
Next - what training or volunteering is Ben doing, to stay busy and learn new skills?
"It's about having a bit of structure, a reason to set the alarm clock and to get dressed and look presentable," says Rob.
"I'd love to get out of this situation," says Ben at the end of the session.
"I've had some good advice today and I really should act on it."
Follow Dave Howard on twitter: @DaveHow4rd