Gossip say new album, A Joyful Noise, has 'mature feel'
16 March 2012

From the section

Music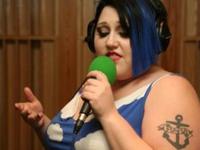 US rockers Gossip have had their new single, Perfect World, played on Radio 1 for the first time.
The track is this week's hottest record in the world on Zane Lowe's show, hosted this week by Annie Mac.
The band, fronted by Beth Ditto, also revealed that their fifth studio album will be called A Joyful Noise and will be released on 14 May.
"We made it between London and Portland. The weather was the same. We didn't know where we were," she said.
"It's been such a long time since we made a record in the place where we lived.
"It was great to just roll out of bed."
The band also revealed that they had changed the name of their new album from Vanilla to A Joyful Noise.
Beth Ditto told Annie Mac that the new record has a more mature feel.
"It sounds grown-up and sad," she said.
"I love sad songs. They say so much.
"I love country music but even the happy songs sound really sad."