BBC 'disappointed' by The Voice and BGT clash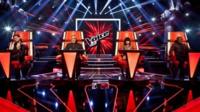 The BBC says it's "disappointed" that ITV have brought forward the start of the next series of Britain's Got Talent.
The move means it will clash with the opening episode of The Voice, the BBC One's new talent programme.
Both are due to start on Saturday 24 March and will overlap by 45 minutes.
"We have a similar thing with Strictly Come Dancing and the X Factor," Mark Linsey, the BBC's controller of entertainment commissioning said.
"Fortunately we're able to keep that overlap to a minimum but I think we're disappointed that Britain's Got Talent has been brought forward by a few weeks," Linsey told Newsbeat.
It's estimated The Voice has cost the BBC around £22 million. It was created by Dutch TV producer John de Mol.
It's a significant investment for the licence fee payer and for the BBC.
"In terms of the number of hours and the duration we're getting out of The Voice - it really is good value for money," said Mark Linsey.
"I think other formats it's about the look, the shape of the person. In this show it's about whether you've got what it takes vocally."
Historically, Britain's Got Talent has begun in April and ITV say the final schedule will be released this weekend (16 March).
An ITV spokesman said: "Britain's Got Talent has been in an established slot in the spring since 2008 and remains incredibly popular with our audience, averaging more than 11 million viewers in 2011."
"This year we will once again be celebrating the UK's uniquely talented entertainers."
The Voice UK features Jessie J, Sir Tom Jones, Danny O'Donoghue from The Script and will.i.am as "coaches".
They sit with their backs to the contestants, enabling them to only hear their voices.
In America, the Voice features Cee Lo Green and Christina Aguilera as coaches and has proved a ratings success.