The different types of mortgages and equity explained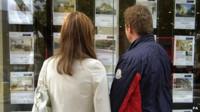 A scheme designed to help first-time buyers and home movers is being launched by the government.
The NewBuy guarantee scheme offers people the opportunity to get a mortgage with a 5% deposit.
It is aimed at encouraging new homes to be built with the loans secured partly by tax payers and home builders.
It is unclear how many lenders are ready to offer products based on the scheme, which is available on flats and houses up to a maximum value of £500,000 in England only.
With hundreds of different types of mortgages on offer, it can be confusing finding the right one.
Repayment mortgages
This is where you pay off a certain amount of your mortgage every month plus a bit of interest.
You see your mortgage going down over the length of the term (usually between 25-30 years) and you get a statement at the end of each year showing how much it has gone down.
At the end of your contract, you will have paid off the entire mortgage.
You'll need to find out whether you will be charged for overpaying or depositing a lump sum to help pay off extra capital.
Many repayment mortgages usually start with a two or three-year fixed-rate term, where you will have higher monthly repayments.
If you do not keep up with your monthly repayments lenders could repossess you home.
Also - the higher your deposit, the better deal you are likely to get.
Use the BBC's mortgage calculators to see how much you could pay
Interest-only mortgages
This type of mortgage is where your monthly repayment is only used to pay off interest.
At the end of the term you are expected to repay everything else however you can.
This is usually done through saving money yourself each month - either with the help of an ISA savings scheme, pension plan or endowment mortgage - and then paying off the total mortgage after 25-30 years.
These mortgages are more popular with buy-to-let investors and first-time buyers because the monthly payments are cheaper.
Fixed-rate mortgages
Fixed-rate mortgages usually run between two and five years and are generally used by providers at the start of a repayment mortgage (see above).
After the fixed-rate term has expired, most borrowers will transfer to the lenders' standard variable rate (SVR).
Because of low interest rates at the moment this will generally be less than the monthly repayments on a fixed-rate mortgage although providers can increase or decrease their SVR.
Before getting a fixed-rate mortgage, check what fees a mortgage lender is charging.
These include valuation, money transfer and other general product fees (like arrangement, reservation and booking).
Also check how much you may be charged if you pay off your mortgage early.
Variable rate mortgages
As explained above, borrowers usually move on to a variable rate mortgage after finishing a fixed-rate term.
Your monthly repayments will go up or down based on interest rates and how much the provider increases or decreases its SVR.
These are calculated once a year.
Tracker rate mortgages
These are similar to variable rate mortgages but the interest rates are not set against the lenders' SVR.
Instead the interest rate you pay will be set at a certain percentage above an outside source's such as the Bank of England base rate. That's for a set period of time.
Other products
Also look out for other mortgages including capped rates, discounted rates, cashback deals, flexible packages - like paying when you have more money - and offsetting against cash you hold in current accounts.
You should also look out for shared ownership or shared equity schemes.
This is when you buy half the property and a housing association buys the other half.
The half that you don't own is rented back to you but at a later stage you have the right to buy the housing association's half.