What happens when a football club goes bust?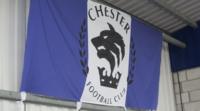 It took less than a minute in the High Court to officially kill off a football club.
Chester City were wound up in March 2010 because of an unpaid tax bill.
Two years later, as Portsmouth and Rangers both fight for survival, Newsbeat's been finding out what actually happens after a football club goes bust.
Chester City supporters had been prepared for the worst, but it still hurt.
Following administration in 2009, many of Chester City's players left leaving a team of untried youngsters at the beginning of 2010.
On 6 February Chester City played their final game, a 2-1 home defeat to Ebbsfleet United.
Three days later they couldn't field a team against Forest Green Rovers and the following game against Wrexham was called off before the club was wound up a month later.
"You try not to think about it now," says 23-year-old Dan Burns, a massive fan. "It was like losing a loved one. The tears just flowed."
But fans were already making plans to start a new club.
They called it Chester FC, took on a new squad of players, applied to the FA and were given a place in the Northern Premier League Division One North - a drop of three divisions.
'Build bridges'
Chester City's old ground - the Exacta Stadium - was reopened for use by Chester FC after being locked up following the old club's liquidation.
The carpets are still patterned with the old Chester City badge, but there are shirts on the walls from the new Chester FC's first season, a title-winning campaign.
Dan says: "This is our club and even though it is that little bit different it's still very special."
The big difference is that Chester FC is completely owned by supporters like Dan.
"This is like having a new baby," he adds. "Looking around and seeing all the people who come here now, you can't even imagine what we went through."
Ann Wiggins, 25, works at the club as a community fundraiser.
She admits they had to "build bridges" as Chester City's collapse left local firms out of pocket.
But she says people are behind the project now.
"We've jumped a league," she explains. "We've got so much support and there are so many people who want to get involved."
The sums at Portsmouth and Rangers are much bigger. Pompey have players who could have paid Chester City's tax bill with one week's salary.
The Portsmouth Supporters Trust is hoping to lead a fan-backed takeover of the club.
But if they fail to stop it being liquidated, they'll look to start a new club like in Chester.
"You've got one club so don't let it go," advises Dan. "Keep working and fighting for it because it's yours."