E4 teen drama Skins to end after final seventh series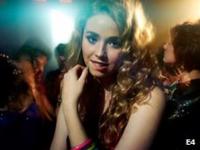 Channel 4 has confirmed its teen drama Skins is to end.
The final episodes will be broadcast as part of the seventh series in 2013.
The show helped to launch the careers of actors like Dev Patel and Kaya Scodelario, who has since appeared in Clash of the Titans and Wuthering Heights.
"Skins is a brilliant show which has defined a generation and will go down as a truly iconic, game-changing piece of television," said Channel 4.
"After seven series it is time for E4 to make way for the next generation of the bold, the new and the innovative."
The official Skins account also tweeted to say: "Have no fear Skins will return in 2013 for one last tear up but the who, the where and the what is still T.B.C. Excited? We definitely are!"
Over the course of six series, the show has changed its entire cast twice in a bid to keep itself fresh.
Skins was first shown on E4 in January 2007 and debuted with 1.4 million viewers.
In 2009, it won the audience award at the Baftas.
Another graduate of the show was Nicholas Hoult, who played Tony in the first two series. He went on to star in films such as X-Men: First Class and A Single Man.
His co-star Dev Patel, who played Anwar, went on to find fame in Oscar-winning movie Slumdog Millionaire.
Average audiences for the latest series of Skins, the sixth, have been the lowest so far.
The opening episode was watched by a total of 961,000 viewers, the first time a series debut has had under a million viewers.
It was celebrated, and criticised, for its portrayal of teenagers and their attitudes towards sex and drugs.
A US remake in 2010 attracted controversy.
Parenting group, the Parents Television Council in America (PTC), said the show could be breaking US laws against sexual exploitation of minors.