Gotye says not to expect a new record from him soon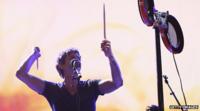 Gotye, the Australian musician at number one with Somebody That I Used to Know, says there won't be any new material from him any time soon.
The 31-year-old, whose real name is Wouter De Backer, has finally hit the big time nine years after releasing his debut album Boardface.
His third record, Making Mirrors, came out last year but he says fans may have to wait for any new recording.
"I'm not really prolific at all," he admitted. "It takes me a long time to make Gotye records.
"This one (Making Mirrors) took two and a half years. There's a lot of experimenting and playing with sounds and production techniques.
"The reason I take a lot of time is because I think I kind of distil what is the best of what I do into something which makes sense for me.
"I don't have a follow-up to Making Mirrors and probably won't do another Gotye record for another two or three years."
Somebody That I Used to Know was released last June but was not an instant success.
The single became popular after being shared on social networks like Facebook and YouTube, rather than through airplay and promotion.
Celebrity fans
Gotye says it feels like a success for independent music but admits it would not have succeeded without record label backing.
"I don't think the song would have happened without a really great label," he said.
"I didn't write the song attempting for it to be a hit single or to be a pop song or an attempt to topple the charts.
"Through YouTube and Facebook it's a song that has resonated with people. I'm proud of that.
"I actually still really enjoy singing the song. I think it's one of the stronger things I've written over the years."
Gotye also has plenty of celebrity backing now after the success of Somebody That I Used to Know.
Gary Barlow and Lily Allen are just two stars who have tweeted their admiration.
He says he appreciates the support.
"That's cool I guess," he said. "I've been asked about that a lot, usually Ashton Kutcher and Katy Perry tweeting about the track.
"I must say I do quite like a lot of Katy Perry's tracks.
"It would be weird and interesting if I collaborated with an artist like that."