Mitch Winehouse wants compulsory drug lessons in schools
6 March 2012

From the section

Music
Amy Winehouse's father, Mitch, says lessons on drugs should be made compulsory in schools.
He's campaigning to have it put on the national curriculum in England, Wales and Northern Ireland and has launched a government e-petition.
"The young people today - they're smart - but they need as much information as they can," he said.
"There are so many dangers out there, certainly with legal highs. Forget about the marijuana and the alcohol."
Mitch Winehouse, who set up the Amy Winehouse Foundation following the death of his daughter last year, was speaking at a reception hosted at the Houses of Parliament in London.
He is working with the Angelus Foundation, which campaigns to highlight the dangers of legal highs, among other things.
"At the moment if someone offers them ketamine at a party they don't know what they're taking," he added.
"So we give them the information and then if they choose to take ketamine after having that information then you've got to hold your hands up."
Drug addiction
Amy Winehouse died in July last year at the age of 27 after drinking heavily.
She had battled drug addiction before but Mitch Winehouse said she had been clean of illegal drugs for three years before she died.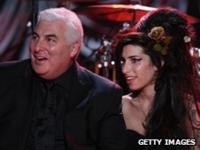 The foundation in her name was set up to help vulnerable young people.
"Unfortunately it's too late for Amy," admitted the 60-year-old.
"It's not too late for the rest of the kids out there.
"We have a good chance of putting this right."
At the moment head teachers decide how much time should be devoted to drug and alcohol awareness within personal, social and health education (PSHE) but it is not compulsory.
In a statement the Department for Education said: "Teachers know their pupils best and have the power to design their own lessons and decide what is taught.
"We published clear advice on drugs to schools last month setting out how they can address drug misuse."