Government work schemes explained
29 February 2012

From the section

Politics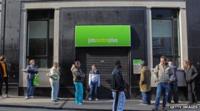 Ministers from the Department of Work and Pensions (DWP) have met business leaders to assess a controversial work experience scheme on offer to the unemployed.
It is one among a number of services available.
Newsbeat takes a look at them.
Work experience scheme
This scheme is for 16 to 24-year-olds and started in January 2011. It offers a work experience placement with a business for two to eight weeks.
Job seekers volunteer for the scheme but they must continue to look for permanent jobs.
These placements can be extended by four weeks and become apprenticeships, meaning a possible salary or promise of potential employment later.
The government is expecting to fund 100,000 of these placements over two years.
Some critics have said businesses should be paying people on the scheme.
On Wednesday the Department for Work and Pensions (DWP) decided it would not take away benefits from people who drop out of their placement.
Sector based work academy places
These are aimed at 16 to 24-year-olds but are open to people of all ages and were introduced in August 2011.
They are voluntary to join and can last for six weeks, including two weeks of pre-employment training and then four weeks' work experience which is tailored to the vacancies in the local area.
At the end of the academy there is a guaranteed job interview.
You can still get your benefits but once you get a place attendance becomes mandatory and if you don't attend you face losing your benefits.
Mandatory work activity
This applies to people of all ages and came into effect in May 2011.
The placements are usually for people who have been unemployed for more than 13 weeks.
They are mandatory placements that Job Centre Plus advisors can demand are taken by a job seeker.
Each placement can last up to four weeks and you can still receive your benefits but if you don't attend without a good cause you can face losing them for 13 weeks.
The scheme caused controversy when Cait Reilly, 22, took legal action against the government over her work at Poundland.
Work programme
The programme was introduced in 2011, is open to anyone and is a main plank of the government's back-to-work policy.
Ministers expect more than half a million people to join each year.
The type of benefits you get will determine when you can access the Work Programme.
-If you are 18-24: Nine months after you started to claim JSA (Job Seekers Allowance) you are required to attend
-If you are above 25 years old: 12 months after you start to claim JSA you are required to attend
-Anybody on income support and incapacity benefit can attend voluntarily
The programme is delivered by companies and charities appointed as service providers by the DWP.
These service providers will look at your needs and assess you, then they will recommend training or work experience which will be mandatory.
Post work programme
This was first discussed in November 2011 and is expected to start in 2013.
This is for anyone who has been through the Work Programme and has still not found a job.
People will be expected to accept ongoing case management or a community action placement.
The community action placement is a mandatory six-month work experience placement tailored to your local communities needs.
Anyone who fails to attend without a good reason faces losing their benefits.