Radio 1 schedule: Scott Mills and Greg James to swap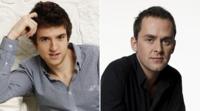 Scott Mills and Greg James are to swap shows as part of changes at Radio 1.
Greg will move to weekdays 4-7pm, with Scott switching to weekdays 1-4pm.
1Xtra's Gemma Cairney will also be moving to the station, hosting the weekend breakfast show, while Jameela Jamil from T4 will be the new host of the Request Show.
Greg's new show starts on 2 April - the DJ said: "My dream job just keeps getting better and better. I can't wait to get going with the new show!"
Gemma, who's switching from Radio 1's sister station, said the move would be "really emotional" but that she was looking forward to "all the new fun".
Edith Bowman, who's making way for Gemma, will now host the Review Show on Tuesdays between 9 and 10pm.
'Dream come true'
Jameela Jamil, who's best known for hosting Channel 4's T4 show, said she couldn't wait to get started in radio.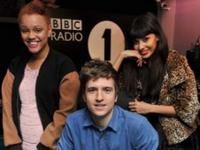 "To say I'm excited is a major understatement," said the 26-year-old.
"[It's] literally a dream come true and I can't wait to slip on the headphones."
Another new signing is 24-year-old Danny Howard from Blackpool who lands a brand new show after being discovered in a Radio 1 talent search.
R1's Dance Anthems with Danny Howard will go out on Saturdays at 4pm.
Specialist music show In New DJs We Trust also gets a line-up of four new DJs, while 1Xtra also has some changes.
Sarah-Jane Crawford moves to weekdays 1-4pm and a new addition, Adele Roberts, will take over Sarah Jane's weekend show.
The stations' controller Ben Cooper said the shake-up is designed to bring in younger listeners and offer up fresh talent for both networks.
The new schedule comes in on Monday 2 April.