Anger over Whitney Houston coffin photo in US magazine
One of America's best known tabloid magazines has caused a controversy after publishing a photo of Whitney Houston's body lying in a coffin.
The image, on the front page of the National Enquirer, was thought to have been taken inside the private funeral home where the star's family gathered on the eve of her funeral.
The picture, which hasn't been verified as genuine, shows Houston wearing a purple dress and a gold brooch.
Houston died, aged 48, on 11 February.
She was found in the bath of her suite at the Beverly Hilton hotel, a day before the Grammy Awards, which she had been due to attend.
Newsbeat has been talking to fans in Newark, the singer's hometown, about the National Enquirer story.
Lina Souffrant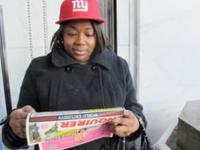 "Why would they show something like that?
"Are they allowed to do that? That is wrong.
"That is invading her privacy. That is messed up."
Basir Whitaker (left) Shanda Brown (right)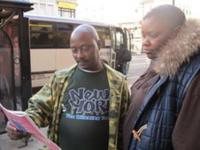 Basir: "No, it doesn't shock me, because you can't hide stuff like that."
Shanda: "So, somebody crept inside and took it (in the funeral home)?
"I think it's fair because they wouldn't let people go in and see for themselves."
Kevin Barnett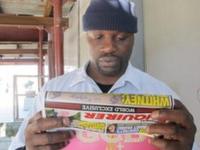 "I don't think they should have done that.
"That's why they held it in the private, because they figured someone from the public might do that.
"That's not right for the world to see that .
"It's on the front page, it's going to make everyone buy it (National Enquirer).
"I think it's very disrespectful."
Halima Wimberly
"They shouldn't have put her picture in a magazine.
"I would like to see her, but not like that. Whitney was a great person."