Passwords leaked in YouPorn chat site security breach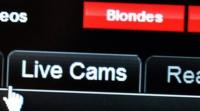 Users of a website linked to YouPorn have had their personal information compromised after a security breach.
It's thought the passwords and email addresses of more than 6,000 users of YP Chat were put at risk.
In a statement, YouPorn said YP Chat is "operated by a third party and is in no way associated with YouPorn".
The company say the chat site has been temporarily disabled and will remain offline until an investigation has been carried out.
Brad Black, the vice-president of operations at YouPorn, put the leak down to "poor security practices" at YP Chat.
'Disheartening'
Writing on YouPorn's official blog, Black said: "As soon as we became aware of the issue we took immediate steps to block access to YP Chat entirely and a thorough investigation was launched."
He added: "The security of our users' information has always been of paramount importance to us.
"The fact that a third-party service provider's poor security practices could have such a negative impact on YouPorn users is disheartening to say the least."
A spokesperson for YouPorn's parent company, Manwin Holding SARL, said: "YouPorn continues to ensure that all appropriate measures and tools are in place to safeguard the privacy of its users."
Manwin Holding run some of the world's most popular online pornography sites.
YouPorn is one of the 100 most popular websites in the world, according to web analysis company Alexa.