Tinie Tempah names his second album Demonstration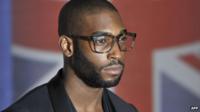 Tinie Tempah has revealed that the name of his second album will be Demonstration.
Speaking at the Brit Awards, the UK rapper said the follow-up to Disc-Overy was "nearly done".
"I'd give it about another month and everything should start seeping out," he said. "It's sounding pretty amazing."
The 23-year-old, whose real name is Patrick Okogwu, was at the Brit Awards to present the best single prize.
He revealed that the recording process for Demonstration had not been easy.
"I had to come back home and reflect," he said. "I was in America a lot and things were great but overwhelming.
"I missed my family and my friends. I was meant to write the album in New York but I literally wasn't in the right physical and mental state to do so.
"So I came back and it's all been worth it. It sounds incredible so far."
'Incredible time'
Tinie Tempah won the best single prize at last year's Brits and was also named best breakthrough act.
As well as Disc-Overy going to number one in the album chart, Pass Out and Written in the Stars also topped the singles chart in 2010.
The rapper says he was inspired by world events while putting together his new record.
"We all know that a lot has been going on around the world recently with protests," he said.
"The people are starting to stand up for what they believe in. With the first album I was definitely discovering who I was and what I was about and what the industry was about.
"Now I'm a lot more comfortable and a lot more in my stride.
"I think it's now time to demonstrate to people why I am who I am and why I do what I do better than anybody else, in the most modest way of course.
"Demonstration covers a lot of the things that have been going on around the world, especially in London recently.
"I want to be in correlation with such an incredible time in the world's history."