Ministry of Sound's 'secret' club night in Pakistan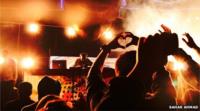 As we drive down a bumpy country road on the outskirts of the major city of Lahore in Pakistan, it doesn't feel like we're heading to a big international club night.
We pass donkey drawn carts and men on bicycles. It's pitch dark and we're fairly sure the driver is completely lost.
Then we see a single purple beam of light piercing through the night sky. And then we hear the loud bass line beats.
We have arrived. Ministry of Sound - This Is Lahore is in full swing.
Hundreds of clubbers are piled into the mini-festival site.
This is Pakistan's third Ministry of Sound event and security is tight.
There was virtually no publicity and the venue was kept secret until the day.
Organisers were worried the event - full of young, liberal Pakistanis - could be seen as a target for attacks by extremists.
Lahore is seen as Pakistan's capital of culture, but a dance music festival like this is rare.
"We're taking a risk by coming here," says 22-year-old student Marya.
"This is a target because such things are really looked down upon, especially as this is an Islamic country.
"We're just brought up to believe this (going to dance parties) is not right. But we will always fight against that."
Alcohol
Marya is one of around 800 people who have turned up to the country club a couple of hours out of Lahore.
A huge stage has been put up in the grounds of the exclusive farmhouse.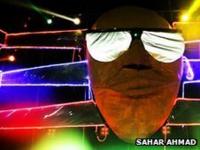 Suspended from the top of it is a giant face, wearing big silver sunglasses.
There's one very obvious thing missing though - a bar. Alcohol is banned in Pakistan.
Groups of men and women in their 20s sit around on the plush white sofas in the "chill out areas" with homemade bottles of "lemonade" and "cola", which may also contain something stronger.
But these young Pakistanis are not representative of most young people in the country.
They are rich and educated, and many of them have gone to university outside of Pakistan including in the UK.
Many other people in Pakistan see this kind of event as an unwanted western influence.
'Phenomenon'
In some respects, Pakistan remains a very conservative country.
In December thousands of people took to the streets in Lahore, calling for Pakistan to break all ties with America in the "war on terror".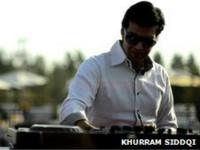 Tonight, 21-year-old film student Saba says it's an opportunity not to think about that.
"We have become immune to it all," she says. "We just get on with our own lives. It's a sad thing, but what can we do about it? It's like a handicap we have to live with.
"Ignorance is bliss. What are we supposed to do? People are getting killed [in Pakistan] every day."
Thirty-one-year-old Aizee is dancing on stage alongside one man with green and yellow glow sticks and another with his face painted with neon stripes.
"There's a very wrong perception about Pakistan in the rest of the world," he says.
"Pakistan is known to be a state where there is a lot of terrorism. But to be honest we guys are party lovers, we are peace lovers and such events are examples of this."
The DJs are mostly local. One of them is DJ Barrister - house music fiend by night, corporate lawyer by day.
The night's big attraction is Dutch DJ, Sander Kleinenburg. He's played all over the world, but this is his first time in Pakistan.
He says: "It's humbling and it's amazing to be a part of. This [music] is a worldwide phenomenon. And straight through religion, and political beliefs, this music is unifying youth all over the world."