Jessie J 'emotional' after Whitney Houston meeting
20 February 2012

From the section

Music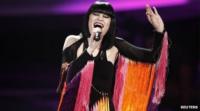 Jessie J has described meeting Whitney Houston in the days before her death as "probably the most emotional day of my career".
The British singer was invited to perform at a pre-Grammy party hosted by Clive Davis, the man who first signed Houston to his record deal.
Jessie was introduced to the late singer by Houston's daughter Bobbi Kristina at rehearsals.
The Essex singer performed as well as Diddy, Diana Ross and Celine Dion.
"I had to really bring myself together and go, 'You can do it Jess,'" she said.
"In the audience were people that I've listened to and been inspirations. It wasn't easy."
Jessie J told Newsbeat she met Whitney Houston's daughter Bobbi Kristina in Los Angeles the night before the party.
"She was like, 'My mum is here and wants to meet you.'"
'Memorable night'
Jessie J said that meeting the 48-year-old was emotional.
"Whitney was one of my huge inspirations," she said. "I've always spoken about her. She made proud to have a powerful voice.
"There's a lot in the industry that isn't about vocals and Whitney Houston was all about that - that's what I'm trying to carry on."
Since her death a week ago sales of Whitney Houston's songs have risen.
The 48-year-old's most well known hit I Will Always Love You re-entered the singles chart at number 14. In total 13 singles she once released are now in the top 100.
Two of the singer's albums are also back in the album chart with her greatest hits CD at number seven.
"I was very proud to be representing the UK on such a kind of memorable night," said Jessie J.
"Whitney Houston is someone that will never be forgotten and her music will live on forever."
Whitney Houston was buried at a private ceremony in Newark, New Jersey, on Saturday.