Fans say their goodbyes to singer Whitney Houston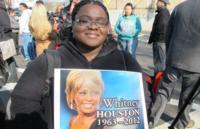 Whitney Houston's funeral may have been a private service for friends and family but that didn't stop dozens of her fans turning out to mourn the singer.
Tight security around the New Hope Baptist Church meant several of the surrounding streets were closed to the public.
At one of the police barriers Tamara Stubbs stood holding a poster of the singer.
She said: "I've come all the way from North Carolina for this.
"That's an 11-hour bus journey but I felt like I had to be here.
"I knew I wouldn't get near the church but just being in this town makes me feel so much better.
"People have told me it's crazy to come but I don't care. I've been listening to her music all my life so I couldn't miss this."
'Newark girl'
Some were disappointed though that Whitney Houston's family had chosen not to hold a public memorial for the fans to say goodbye.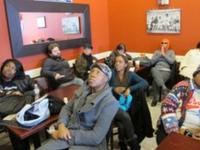 Richard Parker told Newsbeat: "We loved her just as much as they did. We weep for the family but why not let us say our own farewell too? It's not right.
"She was a Newark girl and it would be nice if the people of Newark who came out today could get a chance to say their own farewell."
As the service began many fans walked the short distance to a nearby cafe that was showing the service on its TV screens.
Inside Henry Myler watched with his wife Debbie.
He said: "We could watch this at home but it's much nicer to be spend this time with other fans of Whitney.
"She's such a source of pride for Newark and we just wanted to come together today."
'Honour'
Curtis Preudhomme travelled from Queens in New York City to be with other fans: "We love her and she just let us know that know matter what, you can achieve something in life.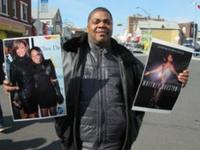 "When people try to get a close look at your funeral from several blocks away you know that you're loved and we want to show the world how much we loved her."
Whitney Houston's ex-husband, Bobby Brown, was cheered by many of Whitney's fans when his car drove past them on the way to the ceremony.
Just 20 minutes later he left the church with reports he was unhappy with the seating arrangements.
"It's sad that happened but we've got love for Bobby too.
"I'm sure to him it was an honour and privilege to ever know Whitney."