Mariah Carey's husband Nick Cannon treated for clots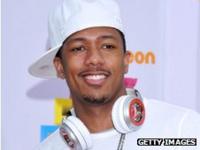 Nick Cannon has revealed he was taken to hospital last week suffering from blood clots in his lungs.
The 31-year-old was treated for two clots and an enlarged right ventricle in his heart after his immune system started attacking his organs.
Speaking on his radio show, he said: "I have been in the hospital since Friday, and actually, it's quite serious.
"My antibodies [in] my immune system were attacking my organs and it made my body even weaker."
Last month, he was taken to hospital after suffering "mild kidney failure".
He said: "I was actually trying to downplay it a lot - even in my own mind - not go to the hospital because I was having a lot of pain in my back and I thought it was the typical kidney pain that I had been experiencing, but I thought it had been a little bit heightened."
Cannon, who is married to Mariah Carey, said his doctor told him he was lucky to have survived the health scare.
"My doctor was like, 'Luckily, you're in shape, because most people who get blood clots in their lungs can't breathe and they stop breathing, like, for ever'.
"I didn't have that symptom of not being able to breathe. I mean, when I took deep breaths it really hurt, and I told my doctors and they hooked me up and everything's good now."
'Overworking'
The record producer has now been advised to work less and take some time out.
"My doctor was saying that my work is going to kill me and he's not joking," Cannon said.
"I think part of the reason why my health did kind of deteriorate was because I wasn't resting a lot and I was doing too much. I was overworking myself, working out too much.
"I always took a lot of pride in working so hard and never taking a day off. But I'm learning that it isn't the wisest thing all the time."
He has now announced plans to leave the radio morning show he has hosted on WXRK since January 2010.
The station have released a statement saying: "We have nothing but respect and understanding for Nick's decision to step down from his day-to-day position. Everyone at the station and all of the CBS Radio family wish him well."
Cannon is the host of America's Got Talent - a US entertainment show created by Simon Cowell.
He married Mariah Carey in 2008, and they became parents last year to twins Monroe and Moroccan.