Diver Tom Daley responds to Evangulov media criticism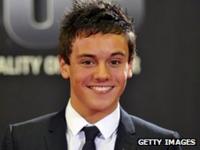 Tom Daley has responded to criticism from his coach that he is spending too much time speaking to the media.
Alexei Evangulov, the performance director of British Diving, had told the 17-year-old to reduce his outside activities and concentrate on training.
But Daley's agent has now released a statement defending him.
"Diving, family and school have always been the priority for Tom. This is 90% of his life. Media work and friends form the remaining 10%," it said.
"We only work with a small team of sponsors and ensure that any media is either necessary or - very occasionally - fun, given Tom's interest and studies in both photography and media."
Evangulov told reporters on Tuesday that Daley's Chinese rivals are training "three times harder" for the 2012 London Olympics.
"I know how the Chinese are training and they work much harder. If you compare them to Thomas, he has many commitments in his media activities," he said.
'Gold medal favourite'
David Sparkes, the chief executive of British Swimming, publicly agreed with Evangulov's comments.
But Daley's agent Jamie Cunningham has now responded: "The comparisons with China may be relevant from a sporting perspective, but are less valid from a cultural and human one."
Cunningham did agree, however, that the "British public's expectation around Tom is too high".
"Qiu Bo from China is very much the gold medal favourite. He may yet become the greatest diver of all time," the statement said.
"However, we are all very focused on ensuring that Tom has every chance for success in London this summer."
Daley regularly does interviews and has previously expressed interest in becoming a TV presenter.
He has endorsement deals with Mini and Nestle, and became an ambassador for sports brand Adidas earlier this week.
He was interviewed by Chris Moyles on the Radio 1 breakfast show last month.
Daley became the diving world champion in the 10 metre platform in 2009 when he was 15 years old.