Rockers The Black Keys record with Michael Kiwanuka
16 February 2012

From the section

Music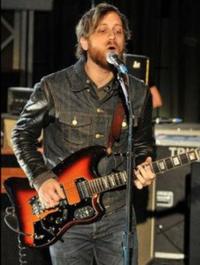 The Black Keys lead singer Dan Auerbach has revealed he's worked on a song with BBC Sound Of 2012 winner Michael Kiwanuka.
Auerbach told Newsbeat the pair spent an afternoon in the studio together and recorded one track.
"It was great - really quick. We went and did it really quick at Ray Davies's studio. It was nice," he said.
It's not known if or when the track will be released.
'Crazy' years
Auerbach, guitarist and singer in the Ohioan duo, explained that he was a big fan of Londoner Kiwanuka who was voted top of the BBC list which tips the most promising new artists for the year ahead.
"Obviously his voice is amazing and the songs are cool," said Auerbach.
"The production on that stuff is great too - I like what the guy is doing."
The Black Keys themselves - 11 years and seven albums into their career - have recently completed their biggest UK tour to date.
It concluded with three sold out nights at London's Alexandra Palace venue.
"They were amazing," said Dan Auerbach of the gigs. "Every show we've done in Europe was better than any tour we've done before.
"The shows were sometimes four times as big as the ones we've done before. It was pretty overwhelming - it was wild."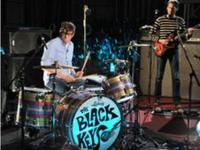 Following the release of their latest album El Camino in December 2011 his band-mate, drummer Patrick Carney, said the last two years had been "really crazy".
"We've gone from playing a couple of thousands seats to playing to - I don't know - we've just done 30,000 people in London. It's pretty bizarre but we're having fun."
Arctic tour
Next month the band return to the US to play a string of arena dates with support from The Arctic Monkeys.
"We played with them a long time ago," said Carney. "They're really nice guys. We like them.
"We've been running into them off and on for about six years."
After that they'll headline with this Coachella festival in Palm Springs, California in April alongside Radiohead and Snoop Dogg.
"When you get to headline the festival it becomes so much easier," said Carney. "You get to go on in the dark, you get to use all the lights, get full access to everything."
"Every band before that has to work around that - it should just be more fun."
The rockers will be back in the UK this summer to play festivals - although they can't reveal where just yet.
"We're going to be back over here but we can't talk about what we're doing. It's top secret," said Carney.
Having almost released an album in every year they've been together it's no surprise that they're already thinking about recording new music.
"We're always thinking about it," states Auerbach.
"We've already planned some dates to get back in the studio this year to see what happens. There's no pressure to actually make a record - just to get started at least. We don't want to waste anytime."
Listen and watch The Black Keys in session for BBC Radio 1's Zane Lowe