Newsbeat guide to administration in football clubs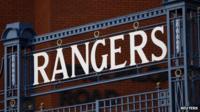 Administrators who have taken control of Rangers are trying to work out the club's financial problems.
They were called in over an unpaid tax bill of £9 million and have been docked 10 points in the Scottish Premier League (SPL).
But what does administration mean and what does the process involve?
Insolvency
Basically a company, or football club, goes into administration when it can no longer pay its bills.
This is called insolvency.
The process is designed to protect firms from their creditors, the people or companies they owe money to, until proposals can be put together to restructure the business.
An administrator (from a qualified accountancy firm) is also appointed by the courts to carry out the job of running the business while they sort out a restructuring plan.
While a club is in administration any individual or company that is owed money will not receive it.
That can mean suppliers and creditors not being paid for months while the process continues.
Trading
One of the main jobs of an administrator is to keep the business that is made insolvent running while looking for a new owner.
While they are doing that, the administrator must make sure that creditors are paid back as much of the money they are owed as possible.
This is done mainly by selling off the club's assets, such as players, the ground, training pitches, merchandise and anything else that can be sold to raise cash.
The wages of players, management and club staff are then dealt with as a priority as part of the football creditors rule although there can be long delays in payments.
In the worst-case scenario, if a company does not have any assets and has no chance of making any more cash, the club can be put into liquidation meaning it can be closed down.
Points deduction
Football league and SPL clubs immediately have 10 points taken off them if they go into administration, or nine points in the English Premier League.
This has happened to Rangers and could happen at Portsmouth on Friday for the second time in two years.
Wrexham were the first team to have points taken off them in December 2004.
Since then 13 clubs have gone into administration including Leeds, Crystal Palace and most recently, Plymouth Argyle last February.
The points deduction is designed to stop clubs being financially mismanaged and going into administration as a means of getting rid of outstanding debt then simply restructuring and borrowing more money.
The rules were introduced after the collapse of ITV Digital in 2002, which went bust owing the football league and its clubs £180m leading to some teams going into administration.
Similar rules were introduced in Scotland in 2003.