Whitney Houston death: Hometown pays tribute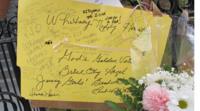 Old friends and fans of Whitney Houston have been gathering to pay tribute to the star at the church where her singing career started.
She began performing at the New Hope Baptist Church in Newark, New Jersey as a child.
Cards, flowers and balloons were tied to railings outside the building to remember the 48-year-old, who died in her hotel room in Los Angeles on Saturday.
Renae Brooks knew Whitney when she was growing up: "While the world celebrates and mourns her as a celebrity, I remember her in my heart as a young child.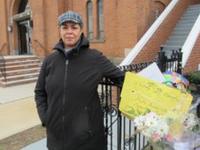 "She was a playful child," says Renae. "It was back in the late 60s and early 70s and we were all neighbourly and friendly.
"We just played together. I'm still in shock and I still can't believe it. My heart is broken.
"She was always loyal to this neighbourhood, the place where she grew up. Let's remember the good in Whitney."
Whitney Houston was one of the biggest selling female artists of all time but in recent years she struggled with a drug addiction.
'Kicking her demons'
Arnold McPherson laid flowers outside the church. He's known the star since she was a teenager.
"Sometimes when you have all that power given to you it ruins your life," says Arnold.
"She probably lacked support and when you lack support it gives you room to do things.
"The last time I saw her was when she came out of rehab and she was getting her life together, kicking her demons and moving on.
"I'm devastated. Tears dropped out of my eyes because she was coming back. But things happen," says Arnold.
Twenty-four-year-old Christie Baker was also at the church, tieing a 'thank you' balloon to the railings.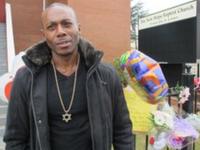 "I loved Whitney," she told Newsbeat. "I'm young but I remember her, she was the best singer in the world.
"I was so devastated when I heard. I was getting ready to go out with friends, but the news just changed the whole night.
"She was too young to go and we didn't see this coming at all. I wish her family the best."
Ty Williams, a fan who lives in the neighbourhood, had met Whitney twice and says her death will affect many people in the area.
"This is a community that is very close knit and so we all feel this connection and this loss right now.
"To lose a legend like this is incredible."
"When I heard the news I wanted to cry but I held it back. I'm very proud of her."