Chris Brown to stay on probation for Rihanna attack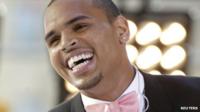 Chris Brown has been told he must remain on probation for attacking Rihanna three years ago.
A judge in Los Angeles said that, although the R&B star had "scored high marks", he should continue to report to an official in Virginia.
Brown, 22, was sentenced to 180 hours community service and five years probation after admitting the attack on his then-girlfriend in 2009.
They'll both be appearing at this weekend's Grammy show in LA.
The singer did not appear at the short hearing, during which his lawyer asked for Brown's probation to be ended because of his good behaviour.
Anger management
Brown had passed all the required drug tests and "made great strides" while under supervision, according to his probation officer.
He finished half of his six months of manual labour, which included roadside clean-up and graffiti removal.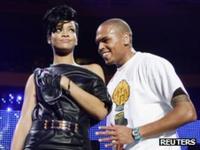 Brown also completed anger management and domestic violence counselling.
Last year, another judge relaxed a restraining order that had banned Chris Brown from contacting Rihanna or getting within 10 yards (nine metres) of her at music industry events.
Another progress hearing has been scheduled for 10 July.
Chris Brown has not been to the Grammys since 2009 but is nominated for three awards this year, including best R&B album for F.A.M.E. (Forgiving All My Enemies).
Rihanna is also scheduled to perform at Sunday's event at the Staples Centre in Los Angeles and is also up for four awards.
British singer Adele is going to make her live comeback at the event following throat microsurgery last November.
Also performing at this year's Grammys are Sir Paul McCartney, Nicki Minaj, Bruno Mars, Katy Perry, Taylor Swift, Coldplay, Foo Fighters and Taylor Swift.
The Grammy Awards will be held on Sunday 12 February 2012