Katy Perry and Russell Brand divorce finalised in LA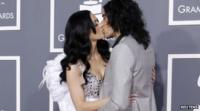 A judge has granted Katy Perry and Russell Brand a divorce, although they won't be legally split up until July.
Los Angeles Superior Court Judge Marc Marmaro signed the judgment, just six weeks after Russell Brand filed for divorce and one day after Perry filed paperwork claiming the pair agreed on financial issues.
The exact terms of the break-up are confidential.
The couple met in 2008 and married in 2010 at a tiger reserve in India.
Russell Brand, Katy Perry and Judge Marc Marmaro all signed the judgment on Wednesday, court records show.
The actor and the singer will only become legally single again on 14 July because California law requires couples to wait at least six months after filing for divorce.
Russell Brand filed for divorce on 30 December 2011 after just over a year of marriage.