Death by Twitter: Top three online celebrity hoaxes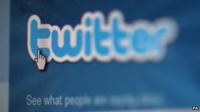 Speeding down the slopes, a high-speed collision with a tree ends the life of comedian Eddie Murphy.
Kung-fu acting legend Jackie Chan collapses and dies of a heart attack. Oh, and rapper Drake also "died" last weekend.
All completely false, but these are just two of the death hoaxes that have whipped up a storm on social networks in the past year.
But what other top celebrities have recently visited the make-believe celebrity graveyard?
Charlie Sheen
The former Two and a Half Men actor has been "killed off" several times.
Suspiciously, one was in exactly the same circumstances as Eddie Murphy - a snowboarding accident in Switzerland.
Sheen's ex-wife, Denise Richards, was quick to deny that rumour in December 2010, tweeting: "He is alive and on his way over to see his daughters. Thank u for all your concern."
Sheen himself took to the site in July last year to laugh off another rumour that he'd had a cardiac arrest: "Warlock: long nap…very much alive," he posted.
Some of the reports - like the recurring snowboarding death story - start life on Global Associated News, a fake news site that lets users put in a celebrity's name and pumps out a templated story.
"This is a totally fake article based on zero truth," states the small-print at the bottom of the page.
But the warning often seems overlooked, providing the fuel to get the RIP hashtags flying and bumping up search engine results.
Jon Bon Jovi
The Bon Jovi front man posted a photo on Twitter and Facebook to quash trending death rumours in December 2011.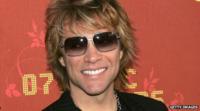 "Heaven looks a lot like New Jersey," read the sign held up by the smiling rock star, who later joked about the hoax during one of his concerts and pretended to take calls from friends checking he was still alive.
The story - which said he'd had a heart attack in a hotel - reportedly came from a blog site that copied much of the text from an LA Times story on the death of Michael Jackson.
Rockers Bon Jovi are, in fact, very much alive and kicking.
Their 2011 tour was the second biggest of the year, raking in nearly $200m (£126m), according to Billboard.
Jackie Chan
The Rush Hour star also has the dubious pleasure of having more than 50 RIP Facebook pages in his honour.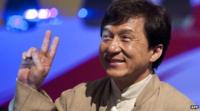 He "died" several times last year - in March and August - causing his representatives to post a reassuring message to his 23 million Facebook fans.
"He did not suffer a heart attack and die, as was reported on many social networking sites and in online news reports," said the March post.
"Jackie is fine and is busy preparing for the filming of his next movie."
His representatives again rubbished similar gossip in August, posting: "Jackie is alive and well and working hard on his next movie! Don't believe the latest death rumors."
The source of the story is again unclear, but it seems to have got momentum from one of the August RIP pages that gained more than 100,000 users in a few days.
Twitter declined to comment on the death hoax trend, but like Facebook - who caused controversy last year for refusing to take down a page about rape - the site is extremely reluctant to censor its users.
Twitter rules state it only intervenes in "limited circumstances".
For example, if someone's address or credit card details are published, threats of violence, or if the site is being used to arrange criminal activity.