Newsbeat speaks to Syrian activist
9 February 2012

From the section

Politics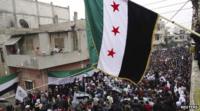 The head of the United Nations has been talking about the worsening situation in Syria - where the Syrian army is attacking anti-government protestors in the city of Homs with rocket attacks for the sixth day.
Ban Ki Moon fears more "appalling brutality" and thinks it's "a taste of things to come".
Protestors say at least 90 people have been killed in the last two days.
More have died since the assault began last week.
Newsbeat's managed to speak to one protestor in the city of Hama - not far from Homs.
He's asked us to protect his identity but tells us the internet's been cut off and he thinks his city is going to be the next to come under attack.
Where are you now?
"I'm in Hama now, the internet is cut and I'm using a sat modem to communicate. Since the revolution started we have been demonstrating in the streets.
"I am an activist. I've been arrested and released. I've been tortured. Nowadays I'm continuing my activities with arranging demonstrations and meetings."
What's the situation like in Hama?
"We have many fears because the internet is cut, communication today is cut. Yesterday there were many shootings in Hama.
"Tanks are around the city, we filmed them, we send the videos to the media and today we are watching the scene in Homs with our hearts broken. We can't do anything for Homs.
After what's happened in Homs, are you worried that Hama is going to be next?
"Yes that is what we are afraid of. The people in Hama fear that what happened Homs would happen in Hama. The Syrian army is spreading all around the city."
Tell us a bit more about the build up of military force around the city.
"Yesterday I went out and filmed the tanks moving from the Northern part of the city. We filmed some soldiers and we filmed the check points with the sandbags."
The internet's been cut as well, is that because activists would use social networking sites to communicate?
"Yes that's [the Syrian government's] goal, to make a darkness on the city, a media darkness on the city.
"Today Hama is not appearing on the media and this gives the regime a chance for them to do whatever he would like in the city without media coverage because almost all the activists depend on the internet.
"I am a rare person who is risking using sat internet and keeping it with him. This is a lot of danger I'm putting myself in."
What would you like to see other countries doing about the situation in Syria?
"We are calling on the countries, on the governments to interfere to stop the killing. The people in Syria are being massacred. We want them to put an end to this killing."