Being Human death was 'horrendous' says Crichlow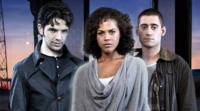 The death of Being Human's George Sands was "absolutely horrendous" says actress Lenora Crichlow.
The werewolf character, played by Russell Tovey, was killed off in the first episode of the fourth series.
"We cried a lot, Michael [Socha, who plays Tom] and I shot the scene with him where he passes over, and it was fully charged. It was heartbreaking."
Lenora also said she thought the US version of the show was good but lacked the "charm" of the UK version.
George died in Sunday's show after partially transforming into a werewolf to save his daughter, Eve, from the vampires.
"I don't think I've cried so much on set ever in my life," said the actress.
"Obviously Russell was the original from the pilot stage and I don't think there was a dry eye in the house."
The fourth series of the BBC Three show sees the characters trying to come to terms with the death of George.
"They're a bit grief stricken, a bit lost, a bit devastated," added Lenora.
It also brings in two new characters to the Being Human team - Hal, a vampire played by Damien Molony, and Tom McNair, a werewolf played by Michael Socha.
Vampire 'temptations'
Despite early nerves, new boy Damien says he soon settled into the role and became good friends with the rest of the cast.
"I was really nervous," the Irishman told Newsbeat. "It was the first TV job but I was really excited about what was going to happen.
"My first scene was with Michael and the next day with Lenora and I just felt like I was part of the furniture after two days. It was an amazing first job."
Damien's character Hal is over 500 years old and is running from a past he wants to forget.
The vampire eventually finds the refuge he needs in his supernatural companions, says Damien.
"He really learns to rely on both Tom and Annie to protect him from the various temptations of blood, women, everything that vampires are tempted by."
Lenora, who plays Annie the ghost, also revealed she enjoyed the way fans have embraced the series and said it may have helped some people who feel like 'outcasts'.
"Over the course of the series I've had a lot of different letters," said the 27-year-old.
"There's a lot of people who relate to being a bit of an outcast and feeling like they don't fit in, that their quirky little group is their world and without it they'd feel pretty lost.
"That's quite nice to go to work and produce this show and see how many different levels it's hitting people on. It's highly entertaining but it's got depth."
Being Human continues on BBC Three on Sunday at 9pm.