Blackberry maker RIM defends sales figures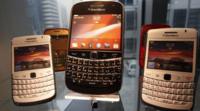 Research in Motion (RIM) the company behind Blackberry, has hit back at claims people are getting ready to ditch their handsets.
Last week more than two hundred users contacted Newsbeat.
Nearly three-quarters (71%) said they were planning to switch to a rival handset as soon as they could.
But RIM has released new research which suggests Blackberry was the best selling mobile brand in the UK last year.
It supports what Marshall Shipley, a mechanic from Stoke-on-Trent, told Newsbeat last week.
He has been with Blackberry for four years.
"I've had three so far and am waiting for my upgrade to my fourth.
"It's full touch screen, it's got its own keypad, so it's got the best of both worlds.
"Picture quality is fantastic and it works very, very fast. It's got everything a phone needs."
'Perform outstandingly well'
According to the new figures, compiled for RIM by data firm GFK, 26% of all smartphones sold in December were Blackberry handsets.
Helping the company reach 8.5 million customers across the UK.
In a statement Research in Motion said "we are very pleased with the latest findings.
"[They] show how RIM is continuing to perform outstandingly well in the UK market."
But another set of figures, from research company Gartner, suggests Blackberry's market share is falling.
Down from 23% to 19% in the first nine months of last year.
Birmingham-based tattoo artist Natalie Farren is one Blackberry user who did decide to change smartphones.
"As soon as I had the money I just decided to change it for something else.
"I just didn't get what I needed from it.
"It wasn't very reliable, it was always freezing, the camera was really poor. It ran too slowly. It's just not really what you'd expect from an expensive phone.
"Overall I thought the BlackBerry was good initially but the more I used it, it just didn't work for me."