One Direction's Harry Styles and Caroline Flack break up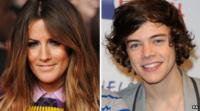 One Direction singer Harry Styles has confirmed he has split from TV presenter Caroline Flack.
The 17-year-old said the break-up was a "mutual decision".
At 32, Xtra Factor's Caroline Flack was 15 years older than the star.
In the past, of the age gap, she said: "What's hard is people saying it's disgusting." Harry sent a message to his fans on Twitter confirming he was now single, but denied it was a one-sided move.
He wrote: "Please know I didn't 'dump' Caroline. This was a mutual decision.
"She is one of the kindest, sweetest people I know. Please respect that."
Caroline Flack, who hosted the backstage coverage of the National Television Awards on Wednesday night, kept quiet about the split simply tweeting about her "great night", then complaining about her hangover the next day.
The split came ahead of One Direction heading to the US for a tour.