Adele equals another US Billboard album chart record
26 January 2012

From the section

Music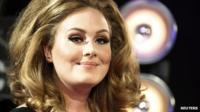 Adele has equalled another US record by topping the Billboard 200 album chart for the 17th week.
The British singer sold 95,000 copies of her second LP, 21, last week.
The Bodyguard soundtrack, featuring Whitney Houston track I Will Always Love You, was the last album to spend 17 weeks at number one in 1993.
Only Garth Brooks' Ropin' The Wind, Billy Ray Cyrus' Some Gave All and the Titanic soundtrack have spent more time at the top spot since 1991.
Last week saw albums with sales lower than 20,000 copies a week entering the US top 10 chart for the first time.
This week all the albums from number six to 10 sold fewer than 20,000 copies in America.
Dave Bakula, senior vice-president of analytics for entertainment at Nielsen SoundScan, said that overall sales were still strong, down 1% from last week.
He said the low figures were due to "a very, very quiet time of year", paired with a lack of new releases.
"The album industry as a whole still has better strength than there was last year," he said.
"You've got that one record at the top with Adele that still drives people to buy nearly 100,000 copies a week and that provides a really great story.
"It would be absolutely essential for us to get some more depth of new releases out there, some more people in the stores."
America's album chart records date from after 1991 when the name was changed from Top Pop Albums to the Billboard 200 Top Albums.
Adele still has some way to go to beat the all-time record of 54 weeks at number one, a mark set by the West Side Story soundtrack in the 1960s.
In the UK, 21 has spent more weeks at number one than any album since 1971.
She's been at number one for 19 different weeks and has now sold more than nine million copies of the record.