Actress Amanda Holden back home after difficult birth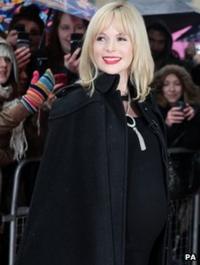 Amanda Holden is back at home after spending time in intensive care following the birth of her daughter.
According to her spokeswoman, the 40-year-old had been in a "critical condition" but is now predicted to make a full recovery.
Hollie Rose Hughes, weighing just over 6lb (2.7kg), was born on 23 January and has been described as "healthy".
Holden and her husband also thanked well-wishers and medical staff for their "amazing skill and dedication."
The return home of the Britain's Got Talent judge was confirmed by her spokeswomen, Alison Griffin.
"[Amanda] is thrilled to be home with her family," said Ms Griffin.
"Hollie is absolutely beautiful and Amanda and Chris are completely besotted with their two girls."
She had been under the observation of doctors since admitting herself to hospital on 23 January, and missed filming for Britain's Got Talent in Blackpool the next morning.
She had been due to join fellow judges Simon Cowell, Alesha Dixon and David Walliams on the panel.
Holden showed off her baby bump when she attended Britain's Got Talent auditions in mid-January but was criticised for wearing high heels.
In response, the star tweeted: "I walk less than 25 metres a day in heels whilst up the duff! #justsaying!"
Amanda Holden, who never confirmed her due date, had a stillborn son seven months into an earlier pregnancy last year. She announced she was expecting again in August.
Shortly afterwards, she was involved in a collision with a lorry which left her vehicle a write-off.
The accident forced her to miss some performances of Shrek The Musical, in which she was starring at the time.
She left the production shortly afterwards in order to concentrate on her pregnancy and Girls Aloud singer Kimberley Walsh took over in the role of Princess Fiona.
ITV said last week it couldn't yet confirm when Holden would return to the judging panel on Britain's Got Talent, or whether guest judges would be hired if she took an extended break from the show.
A spokesperson for the programme said: "We extend our congratulations to Amanda and Chris on the birth of Hollie, and wish Amanda a speedy recovery."