Condom law 'will be ignored' says British porn actor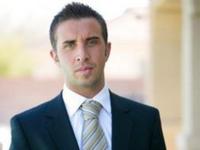 The mayor of Los Angeles has signed new laws that will require porn stars to use condoms on set.
The news has been welcomed by health officials but porn industry workers say it could force them to abandon the city.
Last March, two porn companies in California were fined after actors failed to wear condoms while filming movies.
Keiran Lee, a British porn actor who now lives in LA, has told Newsbeat what impact the new laws could have on the industry.
How do you think these new laws will affect the porn industry?
I think it will probably be ignored by a lot of actors in the industry, and a lot of the production companies. We found that a lot of viewers at home don't want to see condom porn. They want to live the reality and it just doesn't sell at all.
So what you'll find is a lot of production companies will now go underground, and go off-premises without permits, just to carry on and make a profit from it.
Is safety not more important than entertainment?
It's probably safer working in the adult industry doing porn than it is going out on a Friday or Saturday night. How many people have one night stands and go back and a lot of time don't use protection?
Whereas in the adult industry we have to get tested every two weeks, a full STI screening for Chlamydia, gonorrhoea, syphilis HIV. And without those tests we're not allowed to shoot at all. You can't go on a porn set without your certificate. It's all regulated.
Do you know anyone in the industry who has contracted an STI through working as a porn star?
I've done over 2,000 scenes and never contracted one STI... some people have contracted STIs. Everybody has a dreary look on the porn industry, and thinks 'what a seedy industry', but if people took a closer look they'd see it's a very clean and safe environment.
Now that new laws have been passed in LA, could production move to another part of the states?
A lot of people might move to Nevada, where it's a lot more lenient towards adult entertainment.
So you might find that people move out of state, but the San Fernando Valley, everyone is situated here, it makes up probably 70% of the adult industry, and I can't really see people taking too much notice of it really.
What will this change mean to you and your colleagues who work in the porn industry?
We can only wait and see what becomes of it. We'll wait and see how strict they are with enforcing the actual law. We'll wait and see and take it as it comes.