Six-year high for vinyl record sales as singles decline
24 January 2012

From the section

Music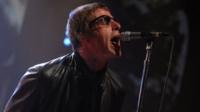 Vinyl record sales have reached a six-year high, according to the Official Charts Company.
341,000 albums were sold in 2011 with Radiohead's The King Of Limbs the best-selling record of the year.
Vinyl single sales continue to fall however, down 20% on the previous year.
Liam Gallagher's Beady Eye had four singles in the top 10 best-selling singles despite total sales falling to 122,000, down from 152,000 copies in 2010.
Noel Gallagher's High Flying Birds had two singles in the top 10 with Morrissey, Arctic Monkeys, Miles Kane and Manic Street Preachers also featuring.
Top 10 vinyl 7in singles of 2011:
1. The Roller - Beady Eye
2. Millionaire - Beady Eye
3. Glamorous Glue - Morrissey
4. The Beat Goes On - Beady Eye
5. The Death Of You And Me - Noel Gallagher's High Flying Birds
6. AKA What A Life - Noel Gallagher's High Flying Birds
7. Four Letter Word - Beady Eye
8. Don't Sit Down 'Cause I've Moved Your Chair - Arctic Monkeys
9. Come Closer - Miles Kane
10. Postcards From A Young Man - Manic Street Preachers
Top 10 vinyl album sales of 2011:
1. The King Of Limbs - Radiohead
2. Noel Gallagher's High Flying Birds - Noel Gallagher's High Flying Birds
3. 21 - Adele
4. Let England Shake - PJ Harvey
5. Suck It And See - Arctic Monkeys
6. Bon Iver - Bon Iver
7. Different Gear Still Speeding - Beady Eye
8. 50 Words For Snow - Kate Bush
9. Submarine (Original Soundtrack) - Alex Turner
10. The Dark Side Of The Moon - Pink Floyd