'No more tests' for women with PIP breast implants
14 March 2012

From the section

Health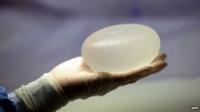 Dozens of women with PIP breast implants say they can't have further tests, despite complaining of pain or wanting them removed.
Newsbeat spoke to more than 150 women with the implants, which were made in France using industrial-grade silicone.
Thirty-eight women said they hadn't been able to get any further help from their GP.
Almost all said they felt let down by clinics and had been treated badly after asking for advice.
Public Health Minister Anne Milton said: "The NHS will look after anyone who is sick. It doesn't matter where your problems originated from. We will look after you if you're sick.
"There's no increased risk of rupture [with PIP implants], there's no increased risk of cancer or anything else. However, we know that there's been a problem and the manufacturers will probably face criminal proceedings."
Meabwhile, a woman who was given PIP breast implants that ruptured has had their cost refunded by her credit card provider.
She said Lloyds TSB refunded her £3,700 on the grounds she was sold faulty goods
Read advice from two experts on faulty PIP breast implants
'Leaking'
Aimee Mansell is 22 and paid £4,795 for her implant surgery when she was 19.
She had felt insecure about being flat-chested.
Not long after the operation she started to get pains, so she went back to the clinic in 2010.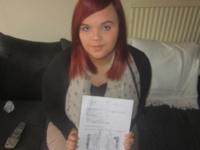 A year after it was first done, the surgeon told her they would be fine.
It was only when she heard about the problems in the news that she found out she had the same faulty PIP implants.
"When this all came out my mind just went into overdrive," she said.
"All I could think was, 'Oh my gosh all this stuff is leaking into my body.'"
She tried to contact the private clinic where she had her treatment done. They told her to see her GP but he said he couldn't refer her on to the breast clinic.
"He basically said that his hands were tied," she said. "He couldn't get me a scan.
"Unfortunately it's quite expensive for a private scan. I'm just stuck. There's nothing I can do."
Advice
The NHS says it will remove the implants if private clinics refuse and there's a clinical need.
Public health minister Anne Milton added: "This means physical, mental, emotional need.
"If you are anxious then you do need somebody to talk this through with. They won't turn you away after a two-minute appointment."
The majority of women who spoke to Newsbeat had their implants done through the Harley Medical Group, who charge around £4,000 for the operation.
Newsbeat repeatedly asked them for an interview but they said no.
Last week they changed their advice to clients with PIP implants and said they would remove and replace them for free but only if they had ruptured and had been put in less than six years ago.
Anyone with a ruptured implant who had them put in between six and 10 years ago would get them removed for free but would have to pay for replacements.
Ruth Waters is a consultant plastic surgeon in Birmingham.
She was one of the first people to notice a problem with PIP implants when she had to remove one from a patient in 2005.
She says there are too many people with the implants.
She said: "Obviously there is a responsibility on the clinics who put the implants in, but they probably don't have the resources or the finance to do the scanning.
"There are going to be a lot of worried women out there with nowhere to go at the moment."
"It's the right advice [from the Department of Health], but because of money the situation could become very difficult because of the volume of women out there in that situation."