Paris Hilton plans collaboration with LMFAO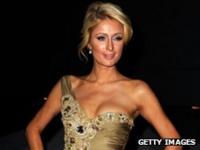 Paris Hilton has announced plans to collaborate with LMFAO on her new album.
The hotel heiress told MTV: "I'm so excited. The music's turning out so great and I can't wait to release it this summer.
"I was just in the studio with RedFoo the other night, so we're going to be doing my new single with LMFAO."
Hilton released her debut single Stars Are Blind in 2006 and later released an album entitled Paris.
Speaking about the collaboration with LMFAO, she said: "I've known them since I was a little girl.
"We grew up together 'cause our parents are friends, so I'm just so proud of them and all their success and what they've done.
"They've just created this whole 'party rock' brand and it's just so awesome."
The duo - made up of RedFoo and SkyBlu - topped the UK singles chart in summer 2011 with Party Rock Anthem, a song taken from their album Sorry For Party Rocking.
Hilton said the new music was "completely different from my last album. I'm going with a whole new genre".
The first single from the new album is said to be ready, with the heiress commenting: "The single's done, it's in the can. That's probably going to be out [within] the next month or two."