The Maccabees not driven by 'fame and celebrity'
18 January 2012

From the section

Music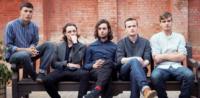 Cast an eye back on the musical landscape of 2008 and it's a very different picture to the one we see now.
So-called British indie music was reaching its height.
At the time it seemed like then Brighton-based band The Maccabees were joining the party just as it was winding down.
Four years later and the lights have all but gone out on that particular explosion.
Indie survivors
Yet, stumbling from the rubble of the meltdown are The Maccabees - somehow bigger than ever.
By their own admission they don't know how they were one of the few to survive the great watershed.
"I have no idea," shrugs front man Orlando Weeks. "I don't know if there is a secret thing we've done that other people forgot to do, or didn't do.
"Maybe it's like the fallow field," he suggests. "You got to let it have a bit of time off so that when it comes back it has more to it."
Guitarist Felix White is in agreement: "You don't hear as many indie guitar bands as you used to, or see as many around. But it doesn't mean they're not there.
"The great thing about guitar music is that it never really goes out of fashion."
New era
Whether The Maccabees can be responsible for resuscitating the genre with their third album Given To The Wild remains to be seen - they're certainly not motivated by the idea of it.
It entered the official album chart in the top five on Sunday, their best position yet.
Since forming in 2004 there's has been an envious slow and simmering boil to their current position.
"We haven't tried to kid anyone," explains White. "We've tried to do it with a certain degree of honesty and that feels good.
"In terms of success, fame and celebrities - who wants to be a celebrity? I don't think that's an incentive of anyone in the band.
"I enjoy the fact that more people are in to the band though - definitely."
Indeed, pressed on which famous faces his band have given him the opportunity to meet White recalls meetings with ex-Reading and Coventry City midfielder John Salako and boyhood football hero Matt Lawrence.
'Our craft'
Given To The Wild is an indefinitely more layered, complex work than their previous two albums (2007's Colour It In and 2009's Wall Of Arms).
It was recorded in Monmouth, South Wales at Rockfield Studios - a working farm of sorts.
In between recording the fivesome's days were spent riding horses, motor-bikes and tending a nearby barn's wild cat.
Critics are lauding the project of that time as their best work yet, but they have a typically humble view of the future.
"We've got better at what we're doing, learning our craft," says Weeks.
"I love everyone in this band," White concurs. "I wouldn't want to spend time with anyone else. I've got a lot of friends outside the band. They're my best friends."
After eight years, that above anything else, surely bodes well for the future of The Maccabees.
Given To The Wild is out now