Katy Perry to work on The Sims, confirms Electronic Arts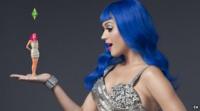 Katy Perry is set to collaborate with the makers of The Sims computer games, says developer Electronic Arts (EA).
EA said it would work with the star over multiple Sims games to produce "Katy Perry themed in-game content and virtual goods".
The relationship between the pair begins with a special edition of the Showtime expansion pack, due in March.
Launched in 2000, the game series - which has sold more than 140m copies - allows players to live a virtual life.
Perry, 27, said she was a fan of the games: "I always like to think of myself as a cartoon, and now I'm a Sim."
The star, who recently split from husband Russell Brand, will create accessories, clothing, hairstyles and furniture for the series.
EA said the upcoming Showtime collector's edition would feature "iconic Katy Perry themed items", including fashions, a guitar, a hairstyle and props.
The rags to riches game challenges players to make their character a showbiz superstar.
"We couldn't be more excited to work with Katy," said Steve Schnur, Worldwide Executive of Music for EA.
"No performer could better represent the humour and fun of The Sims brand."
The Hot and Cold singer will also be involved in marketing and advertising for future Sims games.