Number of 'studio schools' in the UK set to triple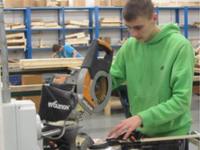 The government is set to triple the number of 'studio schools' in the UK.
In studio schools, pupils split their time between studying and getting paid to do a real job.
The schools have been set up to try and deal with the problem of youth unemployment, and address concerns that school leavers don't have the skills to cope in the real world.
But one teaching union says studio schools are expensive and don't help enough teenagers.
The Association of Teachers and Lecturers says more needs to be done to help all teenagers get the most out of school.
Figures out this morning (18th January) show another rise in the number of 16 to 24-year-olds who are out of work, up to 1.04 million.
Stephenson School in Coalville, Leicestershire, is one of just six studio schools currently operating in England.
Pupils taking A-Levels at the schools spend three days a week in the classroom, and the other two days getting paid to do a proper job.
The teaching is based on advice from businesses in the hope that students will get a better idea about 'the real world' instead of just being taught to pass exams.
'Sounded different'
Molly Lathbury and Nicole Usher, both 17, left their last school to join Stephenson in September.
"We were the only ones who came here. We heard about it through school and thought it sounded very different," Nicole says.
The girls say they would have been "clueless and scared" if they'd left school and gone looking for a job.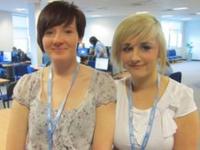 Their two placement days are spent in the office of a medical equipment company.
The pay is minimum wage but Molly says: "The money helps a lot because we're learning to drive."
They also do a full working day (8.45am - 5.15pm) instead of normal school hours.
"Long" and "tiring" is how they describe the first few weeks.
"To start with it was hard but we're getting used to it now and it's paying off," says Molly.
Last autumn some of the UK's biggest firms told Newsbeat too many young people were leaving school without the basic skills to get a job.
'Commitment'
Kathy Meakin is Molly and Nicole's boss on their placement.
In her previous jobs, she says she's had problems with young people starting out at work.
"It's difficult for them to understand they've made a commitment and they need to get to work," she says.
"It's also very limited in the number of students who can say 'I've had another job, I'm used to interacting, I'm used to customers, and I understand how important things are. That certainly shows at interview."
Stephenson Studio School is attached to a college so A-level pupils can take courses in things like carpentry and mechanics, in case they're still not sure what they want to do for a living.
Martin Johnson, the deputy general secretary of the Association of Teachers and Lecturers, told Newsbeat that pupils benefit from the "active learning methods" found in the schools.
"Studio schools are an expensive provision but based on very good principles," he said.
"The problem is that most young people, including the academically successful, are turned off learning by the present curriculum and assessment system and all youngsters need the broad curriculum and active learning methods found in studio schools.
"Today's mainstream secondary schools are being turned into qualification factories by the policies of successive governments."