Daniel Radcliffe defends Lana Del Rey US TV performance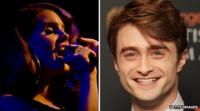 Daniel Radcliffe has defended Lana Del Rey's performance on US television at the weekend, which has been criticised by some American pundits and stars.
The New York singer sang Video Games and Blue Jeans on long-running NBC comedy show Saturday Night Live.
Radcliffe, 22, introduced Lana Del Rey and says she doesn't deserve the abuse she's been getting.
"It was unfortunate that people seemed to turn on her so quickly," he said, speaking at the Bafta nominations.
"I also think people are making it about things other than the performance.
"If you read what people are saying about her online, it's all about her past and her family and stuff that's nobody else's business.
"I don't think it warranted anywhere near that reaction."
One of Lana Del Rey's biggest critics was fellow musician and Hollywood actress Juliette Lewis.
After watching the show she tweeted: "Wow watching this 'singer' on SNL is like watching a 12 year old in their bedroom when they're pretending to sing and perform #signofourtimes.''
The 38-year-old star has since back-tracked on her comments, deleting the tweet and saying Lana Del Rey has "great haunting melodies" and that she's a "fresh and yummy songwriter".
Entertainment news blogger Perez Hilton tweeted: "It wasn't just me! Seems like the OVERWHELMING consensus is that @LanaDelRey was horrible on SNL last night."
Lana Del Rey's track Video Games had more than 10 million clicks online last year and the singer, whose real name is Lizzy Grant, is one of of Newsbeat's tips for 2012.
Her debut album, Born To Die, is due to be released on 30 January.