Biffy Clyro reveal concept behind 'mighty' double LP
17 January 2012

From the section

Music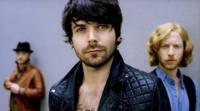 Biffy Clyro have been explaining the concept behind their forthcoming "mighty" double disc album.
The Ayrshire band will release a two CD LP in 2012, and said the theme of the album is about "a difficult journey we're going to take".
The album will feature 20 songs - 10 on each disc.
Front man Simon Neil said: "It sounds dangerous when you say it out loud but we're trying to explore writing songs in a different manner."
'Rock' songs
Speaking to Radio 1's Zane Lowe he added: "We're not going to throw every song we've ever done on it - it's not that kind of double album.
"It'd be a bit much to just bang out 20 rock songs."
The singer and guitarist explained that the album marks a change in direction in sound for the trio.
"There are a couple of songs that are written entirely on keyboards, string sounds, and I guess Phil Collins-type electro beats behind it.
"We're just investigating and experimenting with what we feel comfortable doing.
"We haven't got any reggae songs or dubstep - that's not going to appear on the new one, but there's a song that's a bit mariachi, which is going to be beautiful."
Their most recent album, Only Revolutions, was released in 2009.
Last year the band headlined the Sonisphere festival, Knebworth - they say the commercial success they've achieved in the last five years has given them momentum.
"When things go well it does give you a bit of a confidence boost.
"We've never been shy as a band, but when other people get into it it does give you a wee bit more jump in your step.
"When you're creating you've got that constant buzz, that constant spark. Every time an idea comes to life it's an exhilaration."