The Vaccines defend guitar bands at Brit nominations
13 January 2012

From the section

Music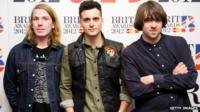 The Vaccines have defended rock music after record boss Jim Chancellor accused labels of being "scared" to sign new guitar groups.
The band wrote the only debut album to make it into the top 35 best selling rock records released last year.
They say guitar bands shouldn't be judged on chart success alone.
"There's been so much about the death of the guitar band, but so many great guitar records are being made at the moment," said singer Justin Young.
"It really annoyed me. What is a guitar record? So many of the important guitar bands of the 80s had no impact on the charts but their legacy has been so important.
"I think we just need to shut up now. It's boring."
'Quite surreal'
The Vaccines are up against Ed Sheeran, Jessie J, Emeli Sande and Anna Calvi at the Brits next month in the breakthrough artist category, which is voted for by Radio 1 listeners.
Justin Young said it was an honour to be nominated but that it was "quite surreal".
"We don't belong in places like this," he said. "It's nice when so many people have been talking about the death of guitar music and rock 'n' roll, that a rock 'n' roll band's being noticed and connecting with people.
"I guess we feel really happy that we're just doing what we're doing and it's connecting with people and we're being recognised by what is essentially quite a mainstream event."
The London group finished third in the BBC's Sound of 2011 list behind Jessie J and James Blake.
They released their debut album, What Did You Expect from the Vaccines?, in March last year with the record making it to number four in the UK album chart.
Justin Young revealed they were now working on songs for their second album.
"We're writing," he said. "We're just off to Australia and New Zealand and Asia to tour in a couple of days.
"We're going to write there and we're making a new record. We're starting in a couple of weeks."