New series of Being Human will feature 'changes'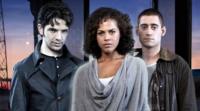 The cast of BBC Three series Being Human say there will be "a lot of changes" to the show this year.
Lenora Crichlow, who plays Annie, said she has a "real nervousness" about how fans will react to the upcoming fourth series.
"It'll be interesting to see how it goes down with the audience," she told Newsbeat.
"Our fans are so important and so loyal, it's always been nerve-wracking seeing what they think."
She added: "Hopefully they'll take to the changes and they'll stick with us."
But the actress says many of the elements that made show popular are still there.
"It's still definitely Being Human in its essence and the formula and its ethos and the real heart of the show is still there so it's not a complete curve ball."
The 27-year-old says the producers of the show think the new series is the best one to date.
"I've had a couple of text messages from production and directors saying how proud they are of it, it's looking fantastic," she said.
"Every year they say it's the best one yet, so I'm terribly excited to see it. I do have a real nervousness about it, there are a lot of changes this year."
'Intense work'
Being Human is a BBC Three show about three housemates - a werewolf, a vampire and a ghost - who try to live as normal human beings.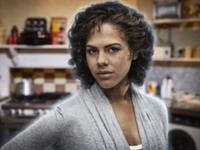 Crichlow says she keeps in touch with the other cast members keep when not filming the show.
"Aidan [Turner] is away in New Zealand filming the Hobbit which makes popping out for coffee a bit difficult," she said.
"But Russell [Tovey] and I keep in touch and Sinead [Keenan]... we all keep an eye on each other as much as we can. But work gets so intense and so busy but we had the best three years together.
"We'll always have that so I think whenever we see each other it's like no time has passed."
A prequel to the new series was released online this morning on the show's official website.
The new series of Being Human is due to begin on BBC Three later this year.