Harry Potter revealed as best-selling DVD of 2011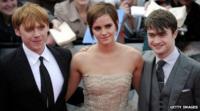 Harry Potter & The Deathly Hallows Parts 1 and 2 were the best-selling DVDs of 2011, it has been revealed.
The two films sold a combined total of 4.29 million copies in the UK last year, the Official Charts Company said.
The Inbetweeners Movie was placed third in the chart, despite only being released on DVD in December.
The comedy was a UK box office success last summer, taking £13m on its opening weekend.
The 2011 Official Video Chart incorporated sales of all physical video formats - including DVD, Blu-Ray and VHS.
Other films in the chart included Despicable Me, Paul, and The King's Speech - which won the Academy Award for Best Picture last February.
The only entry in the top 10 that wasn't a feature film was Peter Kay's live stand-up show - The Tour That Didn't Tour Tour - which took ninth place.
Last month, Kay became the first comedian in history to reach 10 million DVD sales.
Bridesmaids was placed tenth in the end-of-year chart, with sales of more than 900,000 in the UK.
DVD and Blu-Ray sales received a boost just before Christmas, with 23% of the year's total physical sales occurring in December alone.
Blu-Ray increased its share of the market in 2011, accounting for 13% of all physical disc sales.
However, overall DVD sales declined by 7.2% last year, according to the British Video Association.
The best-selling DVD and Blu-Ray releases of 2011 were:
1. Harry Potter & The Deathly Hallows Part 1 (2.32 million sales)
2. Harry Potter & The Deathly Hallows Part 2 (1.96 million)
3. The Inbetweeners Movie (1.90m)
4. The King's Speech (1.73m)
5. Despicable Me (1.03m)
6. Paul (1.01m)
7. Pirates Of The Caribbean - On Stranger Tides (1.01m)
8. Tangled (930,000)
9. Peter Kay - The Tour That Didn't Tour Tour (911,000)
10. Bridesmaids (901,000)
11. Transformers - Dark Of The Moon (848,000)
12. The Hangover 2 (828,000)
13. Lee Evans - Roadrunner (973,000)
14. The Hangover (672,000)
15. Inception (671,000)