Routine removal of breast implants not necessary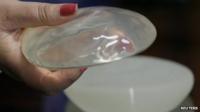 A Government review into faulty French breast implants has said there's no need for women to have them routinely removed.
There have been fears the implants made by PIP had poor quality silicone which could leak causing serious health problems.
Ministers say women don't need to have them taken out, despite the fact that the French government is advising the opposite and paying for removal procedures.
A week ago the UK Government said the implants were safe enough, but then it came out the risk of leaking might be 7% - not 1% - so the review was ordered.
But despite saying there's no danger, ministers say NHS patients who had implants put in on the health service should be allowed to have them taken out for free if they're worried.
Lingering concerns
Many of the 40,000 women who could be affected by this paid for their implants privately. The Government is suggesting private clinics offer their patients free removals, but isn't forcing them to do it.
Private patients won't be able to get it done on the NHS though.
Before the review was published, some companies like Nuffield Health had already said they'd pay for patients to have implants taken out.
But some other clinics no longer exist so there's concern for their patients.
Campaigners are also angry that this review is based on what they call flawed statistics so they're still worried the main safety advice is wrong.