Adele has biggest-selling album and track in US in 2011
5 January 2012

From the section

Music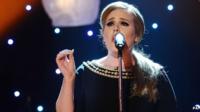 Adele has mirrored her success in the UK by doing a chart double in the US in 2011, scoring the top-selling album and track of the year.
Her album 21 moved 5.8 million copies, while Rolling In The Deep also sold 5.8m, according to Nielsen SoundScan.
The singer's second album was the biggest-selling album in the US since Usher's Confessions seven years ago.
Adele's success helped give US album sales a boost. Overall they rose for the first time since 2004.
'Phenomenal year'
A total of 330 million albums were sold last year, an increase of 1% from 2010.
Adele's 21 has not left the Billboard top 10 since it was released in March 2011. It sold 352,000 copies in its first week.
The 23-year-old scored more than double the sales of the second biggest-selling release, Michael Buble's Christmas.
He was followed by Lady Gaga's Born This Way, Lil Wayne's The Carter IV and Jason Aldean's My Kinda Party in the top five.
Inside Adele's 'phenomenal' year
Rolling In The Deep was the biggest-selling track of the year in the United States.
She was followed by LMFAO's Party Rock Anthem, Katy Perry's E.T., Maroon 5's Moves Like Jagger and Pitbull's Give You Everything.
She is the first artist from the UK to score the biggest-selling album of the year since Spice Girls' debut Spice in 1997.
That was the last time British artists topped both the album and singles end of year lists in the US.
Elton John's tribute to Princess Diana Candle In The Wind was also the biggest-selling single of that year.
Her US sales during 2011 mirrored her success in the UK, where 21 and Someone Like You were the top-selling album and track.
Ben Beardsworth, managing director at Adele's label XL, said that 2011 had been a "phenomenal" year for the singer.
"The soulful nature of her music seems to connect well with a US audience," he said. "They recognise talent in that area.
"It was only when Rolling In The Deep became a big airplay record that things went into the stratosphere."