The Prodigy 'won't go near' dubstep on new album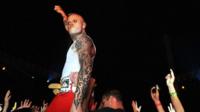 The Prodigy say they won't be changing their signature sound on their new album.
In an interview with Radio 1's Zane Lowe, the dance band were asked what they thought about dubstep's newfound popularity.
Founding member Liam Howlett said: "All the dubstep stuff that's around, we're loving it, but that's not our game. We won't go near it."
The band are planning to release their new album later this year.
"We've always had respect for the masters who do their game, those boys who do that sound [dubstep], that's what they do. We know what we do, and when any Prodigy record hits it'll still feel fresh," Howlett said.
The Prodigy's debut album, Experience, was released in 1992.
Since then, the band have scored five number one albums in the UK, including The Fat Of The Land and Invaders Must Die.
"Finding our sound is the next stage of The Prodigy," Howlett said.
"We've got lots of ideas down. With any Prodigy album we'll record about 20 tunes, and then pick the best ones.
"At the moment we've got a bunch of ideas, and we're still developing the sound."
Warrior's Dance
The 40-year-old says he expects the album to be released in the "second half of the year", but the band may release a new single before then.
"We want to go back to what we used to do where we just stick an isolated single out in the first third of the year," he said.
The Prodigy are planning a handful of live shows in 2012, including a UK festival appearance.
"We're only doing one UK show which is Download, which we've just announced. That's basically a time when we're going to be playing some new songs," Howlett said.
In summer 2010, The Prodigy headlined the Warrior's Dance festival in Milton Keynes, supported by Pendulum and Chase & Status.
The band now plan to take the show overseas.
Vocalist Keith Flint said: "We're going to be in Serbia and take the Warrior's Dance, which is effectively what we did in Milton Keynes, take that over there and just travel it around."
The Prodigy have had a string of chart hits over the last 20 years, including Omen, Breathe, Out Of Space and Firestarter - which all reached the top five in the UK singles chart.