Crysis 2 and Call of Duty most pirated PC games of 2011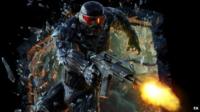 The most pirated game of 2011 was PC title Crysis 2, according to technology blog TorrentFreak.
It was downloaded illegally an estimated 3.2 million times after its release in March last year.
Call of Duty: Modern Warfare 3, Battlefield 3, FIFA 12 and Portal 2 made up the rest of the top five most pirated PC games.
Super Mario Galaxy 2 was the most downloaded Wii game while Gears of War 3 took top spot on the Xbox 360 list.
The PS3 isn't included in the list as far fewer games are illegally downloaded for that console.
TorrentFreak says the number of downloads of the top titles in each category is slightly lower than last year.
Super Mario Galaxy 2, released in 2010, is the most pirated Wii game for the second year in a row.
Meanwhile, Fast Five was the most pirated Hollywood film of 2011.
TorrentFreak estimates that the movie was illegally downloaded more than nine million times last year.
The Hangover II, Thor, The King's Speech and Harry Potter and the Deathly Hallows Part 2 were also in the top 10.
The data for the estimated download numbers is collected by TorrentFreak from several sources, including reports from all public BitTorrent trackers.
PC game downloads on BitTorrent in 2011
1. Crysis 2 (Estimated 3.9 million)
2. Call of Duty: Modern Warfare 3 (3.6m)
3. Battlefield 3 (3.5m)
4. FIFA 12 (3.3m)
5. Portal 2 (3.2m)
Wii game downloads on BitTorrent in 2011
1. Super Mario Galaxy 2 (1.2 million)
2. Mario Sports Mix (1m)
3. Xenoblade Chronicles (950K)
4. Lego Pirates of the Caribbean (870K)
5. FIFA 12 (860K)
Xbox 360 downloads on BitTorrent in 2011
1. Gears of War 3 (890,000)
2. Call of Duty: Modern Warfare 3 (830K)
3. Battlefield 3 (760K)
4. Forza Motorsport 4 (720K)
5. Kinect Sports: Season Two (690K)