Killers album 'definite' for 2012 says Brandon Flowers
4 January 2012

From the section

Music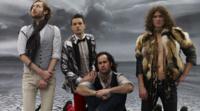 The Killers singer Brandon Flowers has confirmed the band will "definitely" release a new album in 2012.
Speaking to BBC Radio 1's Zane Lowe, he revealed they had already recorded some songs.
"It's just whether it's [released in] the summertime or the wintertime," he said.
One song looking certain to appear on the album is called Battle Born, with Flowers describing it as a "killer".
The Las Vegas band's last release was their 2008 album Day & Age and they've been on a break since early 2010.
Flowers released a solo album called Flamingo in 2010 but said he's enjoying being back with the four-piece.
"It's just exciting getting everyone in the room to make some noise," he told Lowe.
"It's quite a bit louder that with my solo thing, so I've got to get used to that."
The sound on the new album looks set to be a mix of styles from their previous three records, but Flowers said they weren't looking to "throw a curveball".
"I think the consensus within the band is to take those things that we've done well and really hone in on that," he said.
"We don't want to make Hot Fuss 2 or Sam's Town 2, or Day & Age 2.
"We'll maybe take all that stuff, the best of all of it and do what we know how to do."
The band has been lying low since the end of their world tour in February 2010 when they announced they were going on a short break.
However they've played occasional gigs since then, including the Lollapalooza festival and a show in Hyde Park in June 2011.
Flowers, 30, also revealed one of the tracks from the upcoming album: "There's one called Battle Born - it's definitely a killer on the record."