Kings of Leon singer Caleb Followill is to be a father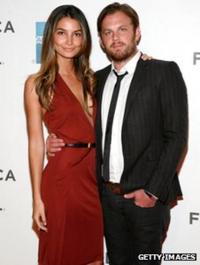 Kings of Leon frontman Caleb Followill and his wife, Victoria's Secret model Lily Aldridge, are expecting their first child together.
"We are thrilled to announce that we are expecting our first child together," the couple said in a statement.
"We can't wait to meet the new addition to our family."
Caleb Followill, 29, married Lily Aldridge, 26, in May in California after dating for two years.
Following the announcement, Kings of Leon bassist Jared Followill tweeted: "So excited to be an uncle! Congrats Caleb & Lily!
"If it's a boy, we gonna be hitting da club together every night! If it's a girl....church."
The US band won a Grammy award for record of the year, Come Around Sundown, in 2010 following the commercial success of 2008 album, Only By the Night.
The group is made up of Followill brothers Caleb, Jared and Nathan and their cousin Matthew and formed in Nashville, Tennessee.
Matthew and his wife Johanna Bennett had their first child in April.
They were forced to cancel the remainder of the US leg of their latest tour in August.
Jared Followill tweeted at the time that "there are internal sicknesses & problems that have needed to be addressed".
The band announced a break shortly afterwards.
A documentary, Talihina Sky: The Story of Kings of Leon, premiered at the Tribeca film festival in America earlier this year.