Michael Buble wants his Christmas album to be his 'legacy'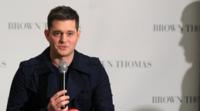 Michael Buble's Christmas album has taken the top spot on the US album chart for the fourth week running.
The Canadian-born singer, who is also at number one in the UK album chart, says he wants his Christmas music "to be his lasting legacy".
"It means a lot to me. I didn't just want to make a Christmas record I wanted to make the Christmas record."
The singer said one of his earliest memories was listening to Bing Crosby's White Christmas.
Christmas 'love'
"I fell in love with the style of Christmas music, my mum would play it over and over from October onwards," he told the BBC.
The star said he hoped his latest album would outlive him: "I worked my butt off and I hoped if I did a good job, and if I was sincere in what I was a doing, I might be lucky enough to have a classic record to live on past me and be my greatest legacy.
"If I'm lucky I might have little kids listening to me over Christmas for years to come - just like I did with Bing Crosby," he added.
It's thought the Christmas album's sales might have been boosted after a performance on US chat show Saturday Night Live.
British singer Adele, who crossed the 5 million sales milestone with her hit album 21 this week, climbed back to No. 2 in the U.S.
Her album has spent 42 of the last 43 weeks in the top five, while the third single from the record, Set Fire to the Rain, climbed to No. 7 on Billboard's Digital Songs chart.