Drug-driving roadside tests 'on the way' says government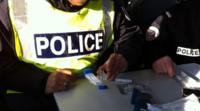 Prime Minister David Cameron has said more needs to be done to crack down on drivers who take drugs and get behind the wheel.
In other countries, like France and Germany, police carry out saliva tests at the roadside to detect cannabis, cocaine and other substances.
Drugs are suspected of playing a part in 250 fatal accidents a year in the UK.
Now the government has said it wants to introduce a similar system in the UK as soon as possible.
Newsbeat's been to Dunkirk in France to see how it works.
As well as pulling over cars and breathalysing for alcohol, police in the French port have extra powers.
During one stop, a man in his early 20s passes the breathalyser test - but police are still suspicious.
"The visage - his face, the face," says the police officer. "We suppose that he has been smoking cannabis."
What happens next cannot - as things stand - happen in the UK.
They take him to a nearby van to check for drug use and to get a swab of saliva.
Ten minutes later the results come back negative.
But more than 9,000 motorists have been convicted of drug driving in France since this type of testing was introduced in 2003.
A similar system exists in countries like Germany, Italy and Australia.
Testing in the UK
In Britain, police don't test for drugs at the roadside.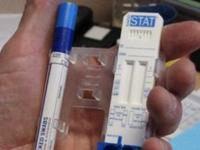 They check for things like dilated pupils and - if drug use is suspected - the person is asked to walk in a straight line and count to 30.
If they fail then can they be taken away to give a blood sample.
But campaigners say that doesn't happen often enough.
"They haven't taken it seriously enough," says Michaela Groves.
"It actually gives you the same effects as drink driving does. So why can't we combine them both and have zero tolerance on both of them?"
Michaela's 14-year-old niece, Lillian, was killed by a speeding driver who had smoked cannabis.
But he wasn't tested until nine hours after the incident and could only be convicted of careless driving.
"They need to re-examine the whole thing," says Michaela. "Why have a law in place and not be able to use it and use it effectively?"
But roadside drug testing in Britain could be controversial.
Drugs like cannabis can stay in your system for days and critics say that could mean a person fails a test even though it's not affecting their driving.
Police currently have to prove that the drug has actually made a suspect unfit to drive.
The government is now considering whether to change the law to make it an offence to simply test positive for an illegal substance at the roadside.